Highly specialized from the specialist:
Warp beam change
with weaving harness
Genkinger configures and manufactures dish insertion carriages or warp beam lift trucks with dish insertion device - adapted to your weaving machines as well as intralogistic processes.
The decisive difference is made by the degree of specialization of the pick-up system: tube gripper for the warp beam or double gripper for twin warp beams. Plus dobby hook and warp stop motion holder for the weaving harness. Optionally with special specification for the UNI-PORT weaving harness support system from Stäubli.
You have a special case or want to go one step further in automation? - We have been developing innovative solutions for the textile industry since 1955.
One-person operation
Maximum maneuverability in narrow aisles
Drawn-in warp, warp beam transport, warp beam in high position
Electric, motorized, manual
Textile technology for advanced students:
Warp beam change
with weaving harness
For a flexible article change in weaving mills, drawn-in warps must be kept ready on the one hand and picked up, transported and stored in an orderly manner on the other. Warp thread breaks during the changing process and storage must be avoided. 
Genkinger has been developing special and standard vehicles as well as devices for the textile industry since 1955. Experienced specialists are needed for individual solutions, especially for warp beam changing including weaving harness.
 
Contact experts
Special vehicles and devices for changing drawn-in chains
For different machine types and widths
Narrow aisles, full and half warp beams
Load capacity Q

up to 5.000 kg

Machine width

1.200 mm - infinity
Describe your case.

We will be glad to advise you.
Describe your case.

We will be glad to advise you.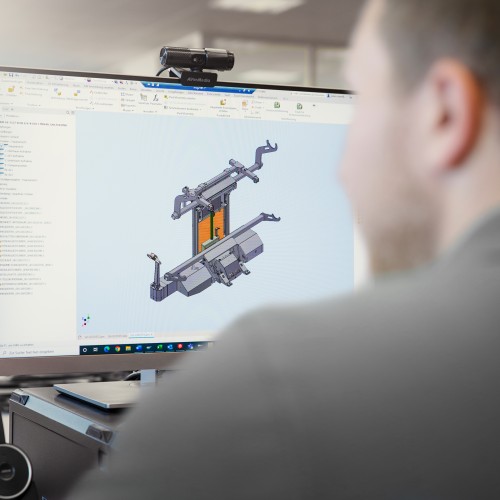 This is where Genkinger comes in:
We will also find a suitable solution for your transport challenge
Start project request
Briefly describe your material handling vehicle requirements or tell us about your daily challenges in warehousing technology or textile technology.