The professionals among the braggarts:
Everything at hand
Lift tables move tools and assemblies to the right place, at the right working height. As an assembly aid or as a tool set-up table, lift tables bring relief to production and assembly. On short distances within the plant, lift tables also serve as transport devices for heavy workpieces.
Equipped with a multidirectional trolley and an electrohydraulic lifting drive, lift tables offer even more convenience for a wide range of applications. Lift tables from Genkinger have been in use in industry for decades.
Hand or foot pump (hydraulic, electric, electro-hydraulic)
Wide track chassis, multi-track chassis
Lifting height up to 2,100 mm, load capacity up to 1,200 kg
More mobile assembly:
Pivot point
for assemblies
If the further assembly of assemblies or vehicles and machines is to be kept as flexible as possible, new transport solutions are needed within manufacturing as an alternative to rails and belts. As the size, weight and bulkiness of assemblies increase, so do the demands on transport. The pivotal point is also the device for safe pickup as well as precise feeding of the assemblies. 
Genkinger designs industrial trucks with a high level of vertical integration. This enables specific configuration, even for different transport tasks with a single vehicle.
Contact experts
Simple and safe operation via radio remote control and safety interrogations
Flexible (rotary) fixtures with different adapters or vacuum grippers
Optimized for small batch assembly, vehicle manufacturing and mechanical engineering
Tragfähigkeit Q

1.200 kg

Load length

1.000 mm
Describe your case.

We will be glad to advise you.
Describe your case.

We will be glad to advise you.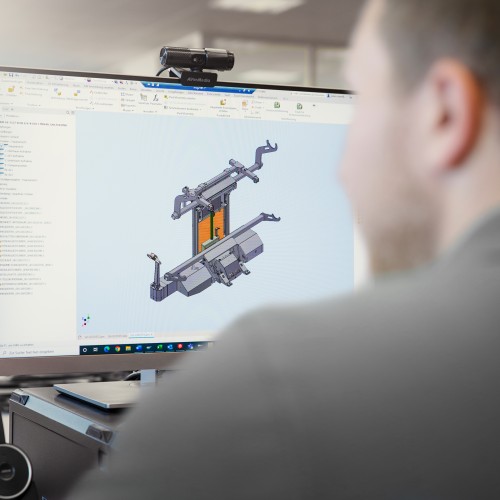 This is where Genkinger comes in:
We will also find a suitable solution for your transport challenge
Our drive:
New mobility
of tools
In order to lift tools safely, transport them and position them precisely in the machine, different load centers, dimensions, docking situations, entry heights and maneuvering options must be taken into account depending on the tool (punch, casting, forging, mold). In addition, there are individual requirements for operation and the degree of automation.
Based on your specification, Genkinger configures mold changers for maximum efficient use on site.
Experten kontaktieren
Handling of tools from 500 kg to over 80,000 kg
Mobile lifting tables, change carts, assembly aids
Mobile temporary storage of tools
Start project request
Briefly describe your material handling vehicle requirements or tell us about your daily challenges in warehousing technology or textile technology.