For a smooth change:
Changing trolley for tools
Tool change carts from Genkinger enable a smooth and fast change of tools. The design of your tool change cart is based on the type of tools, the change process on your machines, and the travel distances on site.
Intelligent assistance systems (sensors, safety interrogations) and flexible operation (operator station, radio remote control) ensure fast and safe pick-up and delivery of the mold. The compact frame design and flexible steering provide flexibility even in small areas.
Mobile lifting tables, electric pedestrian high-lift trucks, cantilever electric pedestrian stackers (pedestrian)
Solutions for the manipulation of special loads
Load capacity from 500 kg to 80,000 kg
Our drive:
New mobility
of tools
In order to lift tools safely, transport them and position them precisely in the machine, different load centers, dimensions, docking situations, entry heights and maneuvering options must be taken into account depending on the tool (punch, casting, forging, mold). In addition, there are individual requirements for operation and the degree of automation.
Based on your specification, Genkinger configures mold changers for maximum efficient use on site.
Contact experts
Handling of tools from 500 kg to over 80,000 kg
Mobile lifting tables, change carts, assembly aids
Mobile temporary storage of tools
Load capacity Q

1.000 kg

Stroke range

650 - 2.200 mm
Describe your case.

We will be glad to advise you.
Describe your case.

We will be glad to advise you.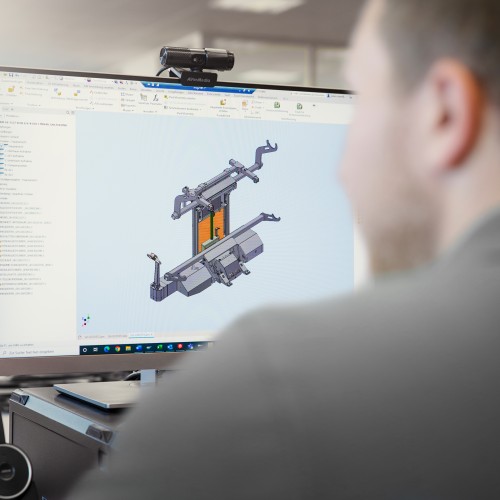 This is where Genkinger comes in:
We will also find a suitable solution for your transport challenge
Start project request
Briefly describe your material handling vehicle requirements or tell us about your daily challenges in warehousing technology or textile technology.