Vacant apprenticeship starting 01.09.2023
Apprenticeship industrial mechanic (m/f/d)
As a trainee industrial mechanic at Genkinger, you can look forward to a versatile apprenticeship. Because every forklift, lift truck, tractor, tool changer or lift table that we manufacture here in Münsingen has been specially developed for a specific company.
The industrial trucks you may soon be helping to build transport gigantic loads every day for well-known companies through production halls and warehouses all over the world.
FREE TRAINING POSITION FROM 01/09/2023
Apprenticeship industrial mechanic (m/f/d)
Your training at Genkinger
In the first year of training, you will learn about materials, auxiliary materials, tools and metalworking techniques, e.g. turning, milling, filing, sawing and drilling. In the second and third years, you will become even more involved in production and learn, for example, how components and assemblies are assembled on the basis of technical drawings, how workpieces are produced by machining, or what to look out for during maintenance and repair;

Training as an industrial mechanic takes place in Genkinger production, in vocational school and in inter-company training courses: In our production facility in Münsingen, you will pass through several stations. You will attend the Ferdinand-von-Steinbeis-Schule in Reutlingen on 1-2 days a week. You will also take part in supplementary courses, including pneumatics, hydraulics, programmable logic control (PLC), CNC technology
Our requirements
In order to achieve precise work results in metalworking or even repairing small devices, you need manual dexterity and diligence.
Math and Physics are usually your favorites. - In the apprenticeship you will see how important what you have learned is for practice

You bring

interest in technology

and programming. Because in addition to mechanics, electronics and IT also play an important role in this profession.

For the implementation according to technical drawings, a

spatial imagination

is necessary.

We welcome applications from school leavers with

Hauptschulabschluss

,

mittlere Reife

, of

high school graduates

,

dropouts

.
We offer you
Very good chances of being taken on

as we train for our own needs. During your training, experienced and competent employees are always at your side.

Reimbursement of costs for travel to vocational school or to training courses (ÜBL)
Attractive working hours

: Usually off early on Fridays

And even more: free drinks, back courses, work clothes incl. cleaning, support in finding an apartment
CONTACT GENKINGER
Interest aroused?
Send a cover letter, reference(s) and your resume by e-mail to Sabine Erz:
You are not sure yet or have some questions. - Just call: 07381 186-9122. There is the possibility of an internship.
Further information:
Location: Münsingen
Type: Apprenticeship
Employer: Genkinger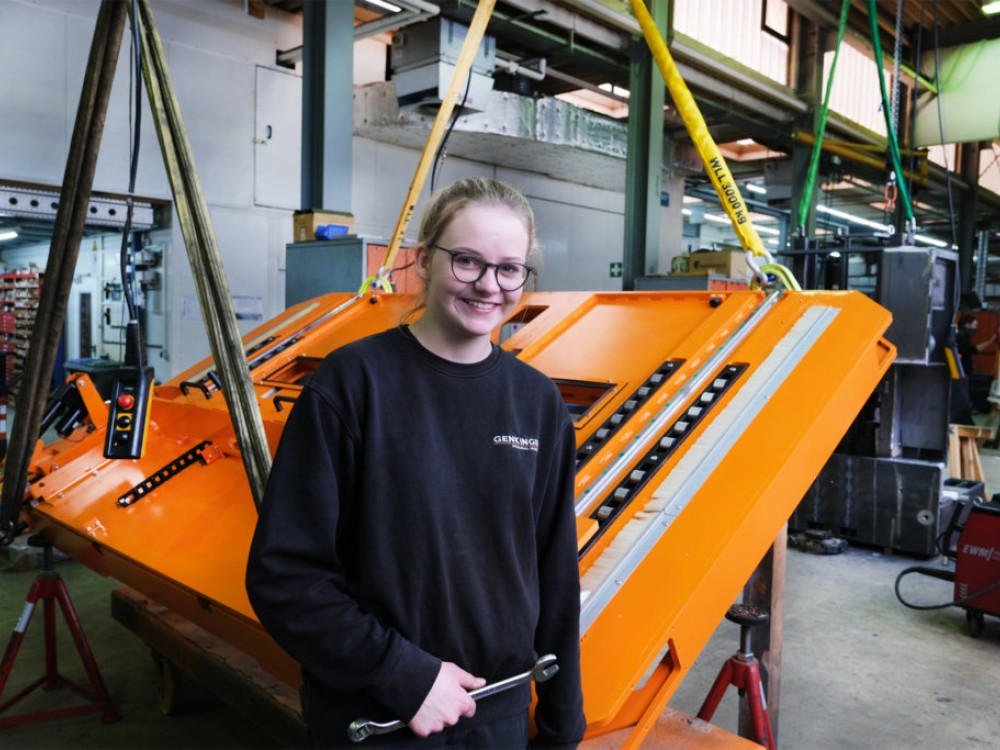 Verena - apprentice industrial mechanic
"I chose to train at Genkinger because every unit is different, so it's a new challenge."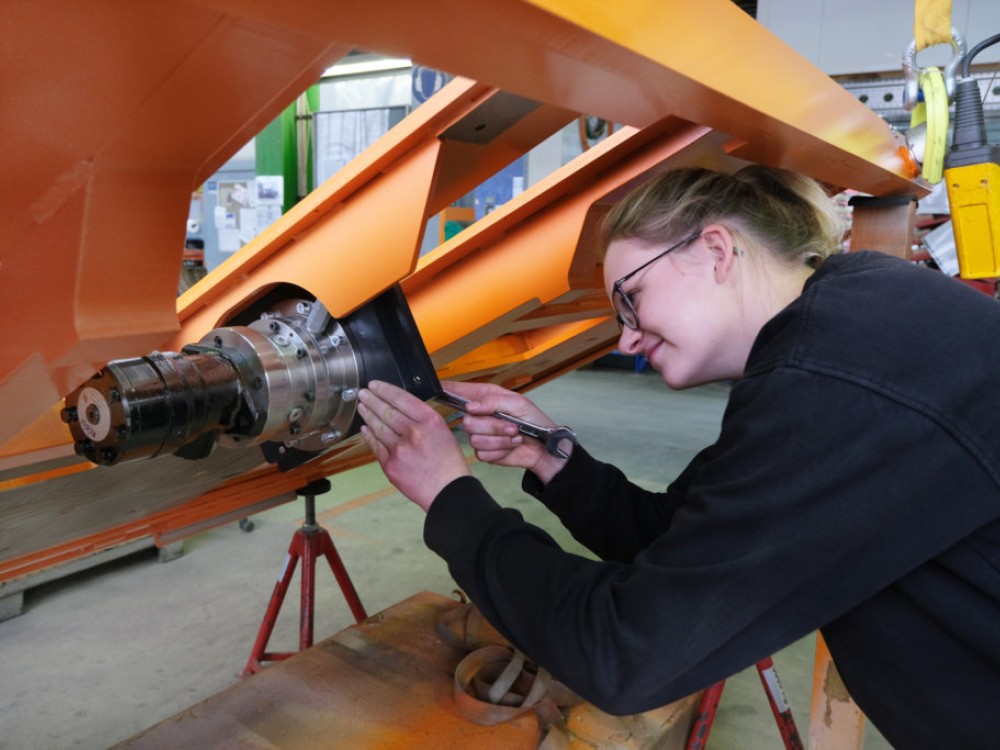 Verena - apprentice industrial mechanic
"What I particularly like about training at Genkinger is that I get to know different departments and am not just in the training workshop."
Genkinger develops and manufactures, among other things,industrial trucks, for example for mechanical engineering, trade and the textile industry up to lifting heights of five meters and for transport weights of up to 30 tons, driverless transport systems as well as special applications such as lifters for e-bikes and cargo bikes.

After the apprenticeship you can move up (if you want to): We offer you opportunities for advancement and further training, among other things, to become an industrial foreman or into customer service, work preparation and team management

You are not yet sure whether the profession of industrial mechanic is the right one for you? - Then first apply for an internship.


Training as an industrial mechanic usually takes 3.5 years. Under certain conditions you can shorten the training.

More and more women are learning the profession of industrial mechanic, also at Genkinger. We use all possibilities for more occupational safety and work facilitation, which of course also benefits the men