CENTRAL TICKET MANAGEMENT
The new online service portal
from Genkinger
ONLINE SERVICE PORTAL
Data based
maintenance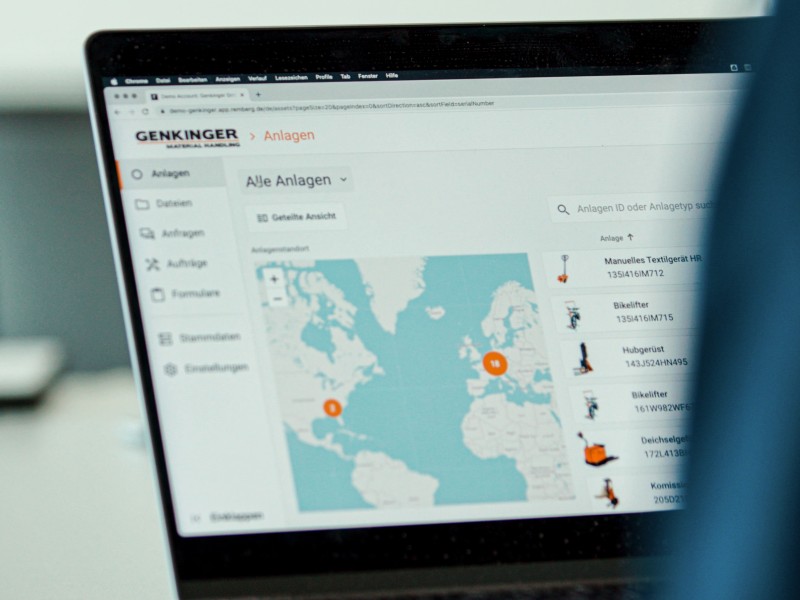 The life cycle of Genkinger's industrial trucks is up to 30 years and more. During this time, we offer our customers all services and are now going one step further: Genkinger industrial trucks including a digital lifecycle file in the new online service portal.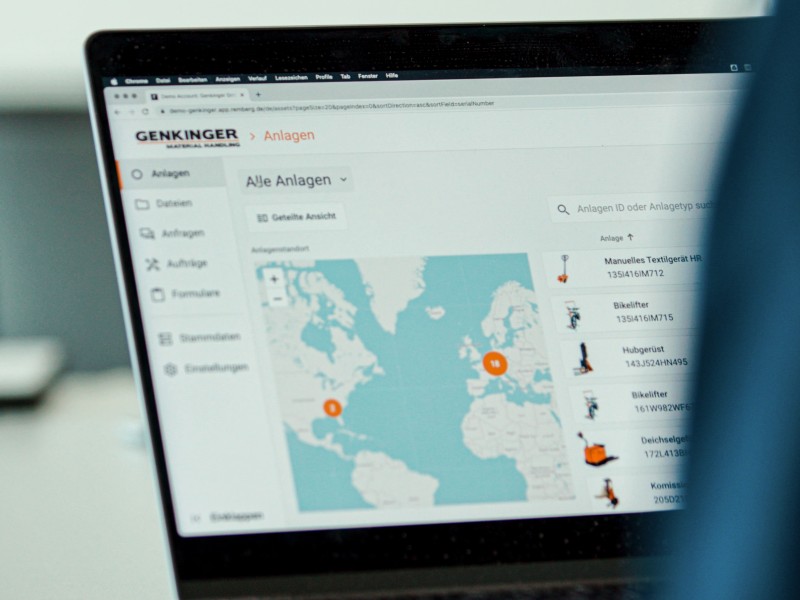 DIGITAL RÉSUMÉ FILE
All vehicle data
immediately at hand
The online service portal offers all our customers the opportunity to clean up the master data of their existing equipment and/or to start with the digital CV file as a "central store of knowledge" for new industrial trucks right from the start. You simply submit your service request to Genkinger via the portal. All relevant data is available here, so that you receive a solution very promptly from our service team via the central ticket management .
Service calls are optimally prepared, implemented even faster and centrally documented without detours.
Digital 360° view:
Clean master data
Up-to-date vehicle locations
Digital spare parts lists
Operator manuals
Interactive checklist
Integrated test book
Status of service requests
Ongoing service agreements
Next service dates
U.v.m.
Note: Genkinger's new service portal complies with the structuring principles of lifecycle files according to DIN 77005-1:2018-09.
CUSTOMER LOGIN + QR CODES
Access - from anywhere
and on site
To access your company-specific online platform, the Genkinger service team will provide you with a secure web address and your access data. You can access all information about your Genkinger industrial trucks using any Internet-enabled terminal device.
For even faster access to the device-specific history, we equip all new vehicles with QR codess as standard. For Genkinger vehicles that are in service, you can receive a QR code at a later date upon request. Employees or service technicians scan the QR code sticker via smartphone or tablet. All data on this device is directly available.
The online service portal is free of charge for Genking customers!
To request your access data, write to our service team.
Good reasons for the online service portal
Consistent digitization instead of paper management

During a vehicle's life, some data accumulates that does not always find its way into the file folder. Instead of searching for a long time, the data can be retrieved immediately and from anywhere via the online service portal.

Basis for work, evaluation and decision-making

Up-to-date and complete information is the prerequisite for efficient work on the industrial trucks as well as a solid and convenient basis for audits and investment decisions.

Intuitive operation that is fun to use

The user interface of the portal is designed so clearly that you can get started immediately. To know all the practical functions in a direct way, our service team will be happy to instruct you.

High requirements for data security

The service portal meets high security standards to protect your data: ISO/IEC 27001 certified data centers, C5 standards, password change cycles, two-factor authentication.
SERVICE DIGITIZED
Genkinger uses remberg XRM
Dieses Video wird durch Youtube bereitgestellt. Um sich das Video anzusehen, aktivieren Sie in den Datenschutz-Einstellungen die Media-Cookies.
PROACTIVE INSTEAD OF REACTIVE
Intelligent planning
On the basis of the complete history and continuous documentation of a vehicle, faults and wear become more transparent. Failures and the associated costs can be avoided. Service visits can be planned more easily.
Spare parts are available on time so that vehicles remain in service.
The life cycle can be extended because maintenance is based on actual operating hours, load and wear levels.
New application needs can be noted centrally, which can serve as the basis for modifications to the vehicle.
Maintenance is relieved by leaner management of the vehicles.
Your first digital resume file or the perfect complement? Have questions or want to try it out right away? - Write an email or give us a call!
From installation and commissioning, Genkinger offers all services related to UVV testing, inspection, maintenance and repair. And that for the life of the machine!
Service
For maximum availability and occupational safety as well as the value retention of your Genkinger industrial trucks, we offer you comprehensive services. And that at any time and worldwide.